We are Stronger Together
Our Featured Organization

---
This month I exchange ideas with Scarlett Lewis,
Founder of the Jesse Lewis Choose Love Foundation

Dr. Arthur Schwartz | President, Character.org
---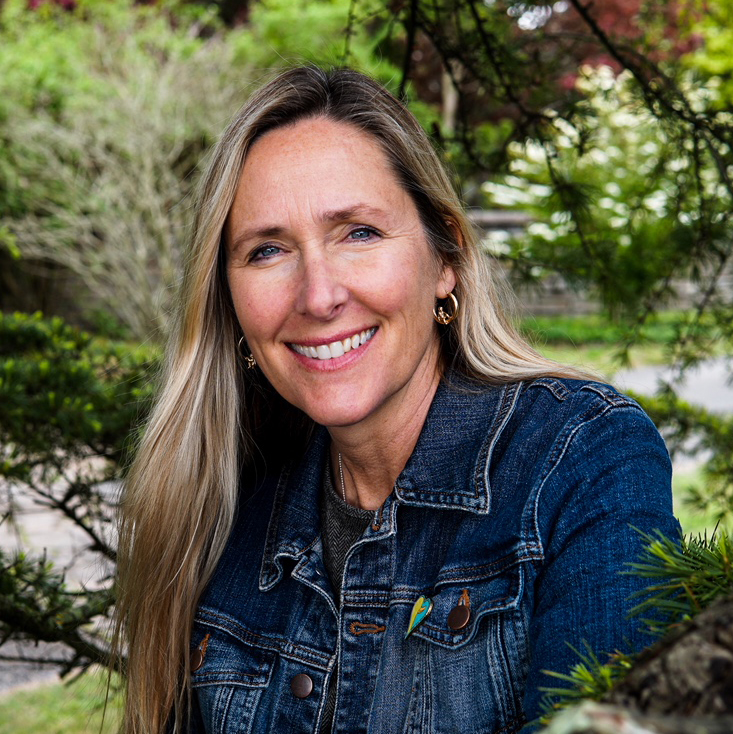 Q: Please share with us the "origin story" of the Jesse Lewis Choose Love Movement
Following the murder of my six-year-old son, Jesse McCord Lewis, in his first grade classroom at Sandy Hook Elementary School in 2012, I found a message he had written on our kitchen chalkboard, "Nurturing Healing Love." I understood that if the shooter, who was a former student, had been able to give and receive love, the tragedy would never have happened. I knew then and there that I would dedicate the rest of my life to addressing the cause of the issues we're experiencing in our schools, homes, and communities. Jesse was hailed as a hero – when the shooter stopped to reload his weapon, Jesse yelled to his classmates to run. His actions saved nine students. 
Since that day Jesse's actions in the face of violence inspired me to emulate his courage and resilience to be part of the solution and help the world become a better place. I created the Choose Love Movement to offer comprehensive, lifespan, next generation character social-emotional development (CSED) programming at no cost. We teach children and adults how to thoughtfully respond with love in any situation using the Choose Love Formula (Courage + Gratitude + Forgiveness + Compassion-in-Action = Choosing Love).
Many of society's issues, including bullying, violence, mental health issues, and substance abuse are preventable by teaching essential life skills, tools, and attitudes that enable us to have healthy relationships, manage our emotions and be resilient. I've experienced post-traumatic-growth following my personal tragedy through my work in the Choose Love Movement and want others to know this is possible and give them a path for growth as well. I was empowered by my son's words of "nurturing healing love" and it inspired me to teach children how to choose love over anger, gratitude over entitlement, empathy over hate, and forgiveness and compassion over bitterness.
---
Q: How did you learn that your son saved
nine of his classroom friends?
We learned of Jesse's heroism from law enforcement, days after his murder. When the shooter turned into Jesse's first grade classroom, his gun either jammed or ran out of bullets. During the short delay when the shooter was reloading, Jesse yelled for his classmates to run and nine children were saved. Since then, several of Jesse's classmates' parents reached out to Jesse's dad in gratitude.
 
---
Q: Jesse showed real courage that day.
There are some who believe that the "courage to forgive" is among the most difficult types of courage. Why do people have such difficulty forgiving?
There are many misperceptions about forgiveness. People think forgiveness means forgetting. We often hear the phrase, "forgive and forget." Some think forgiveness means condoning the painful action, or that it's an undeserved gift that you would be giving to the one who hurt you. Sometimes you can be angry for so long that it becomes part of your personal identity and it's hard to imagine a life without the pain.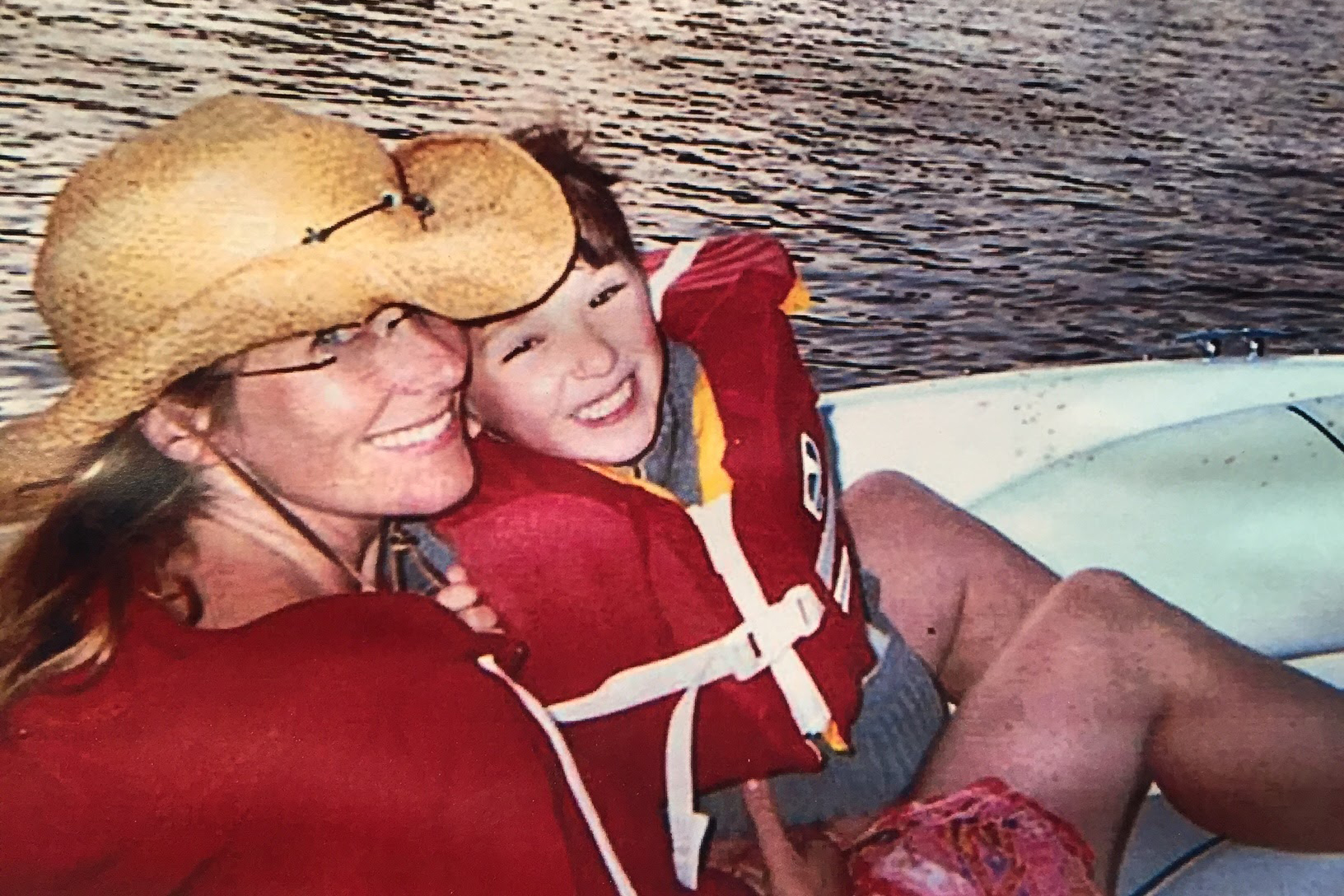 Scarlett and Jesse
Actually, forgiveness is not about forgetting, I will never forget what happened to Jesse and I hope no one else does either! Forgiveness isn't about condoning either. I do not believe what happened to Jesse is okay. Forgiveness cuts the cord that attaches you to pain. When you understand forgiveness this becomes easier to do. People ask me all the time: "How could you forgive the man who murdered your son?" My response is: "How could I not forgive?" I know that if I hadn't forgiven, I would be allowing the troubled young man to have power over my thoughts, that impact my feelings, which then impact my relationships and behavior. Forgiveness is taking your personal power back.
---
Q: What is the current reach of your organization,
in terms of the number of schools, communities, and organizations that you serve and support?
Choose Love has experienced great success in reaching schools and communities. Since Fall 2016, the Choose Love Enrichment Program (CLEP) has been downloaded 47,000+ times in 100 countries and 50 states and Washington DC, reaching 1.7 million students. Currently, Choose Love is in 5,000+ schools, offering SEL and character development, educating the whole child.



In addition, CLEP was referenced in the December 2018 Final Report of the Federal Commission on School Safety. CLEP is also part of the first-ever state-wide school safety initiative in New Hampshire where half the schools have implemented the program within six months of advocacy by the Governor.
The Movement continues to grow every year as we recognize and respond to the changing needs of society. We've moved beyond the classroom and now offer various extension programs, including Choose Love for Home, Choose Love for Communities, Champions Choose Love for young athletes, and Choose Love for the Workplace. All of these programs provide activities, lessons, and videos that focus on character and social-emotional development and are a call to action for educators, students, and families to celebrate and recognize the importance of teaching core competencies and skills beyond academics that can help children thrive socially, physically, emotionally, and mentally, all with the mission of creating love and connection and peace and happiness in the world.

Also, in direct response to COVID-19, we have created numerous free resources to help children and adults deal with the stress and anxiety of this uncertain time.  All are available on our website (chooselovemovement.org).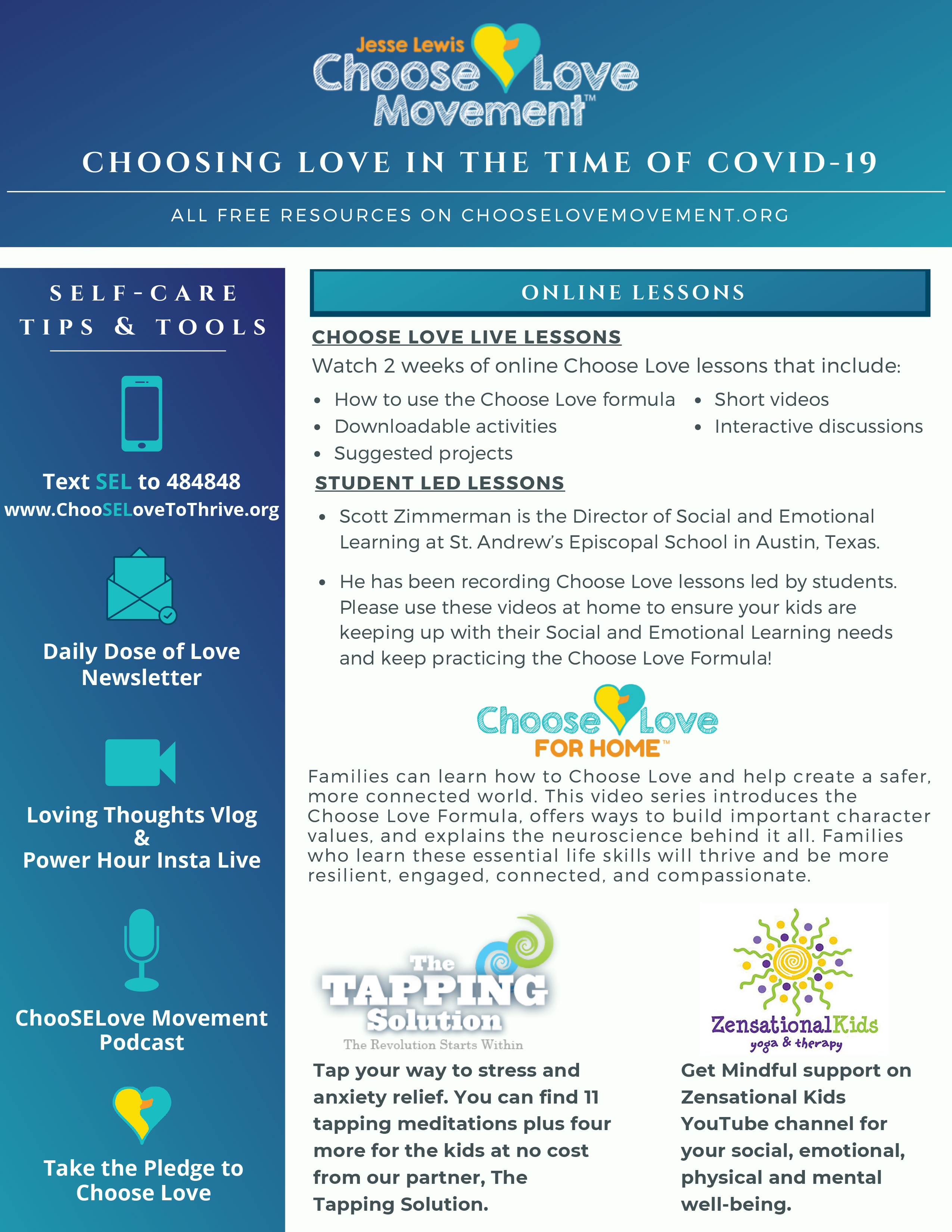 ---
---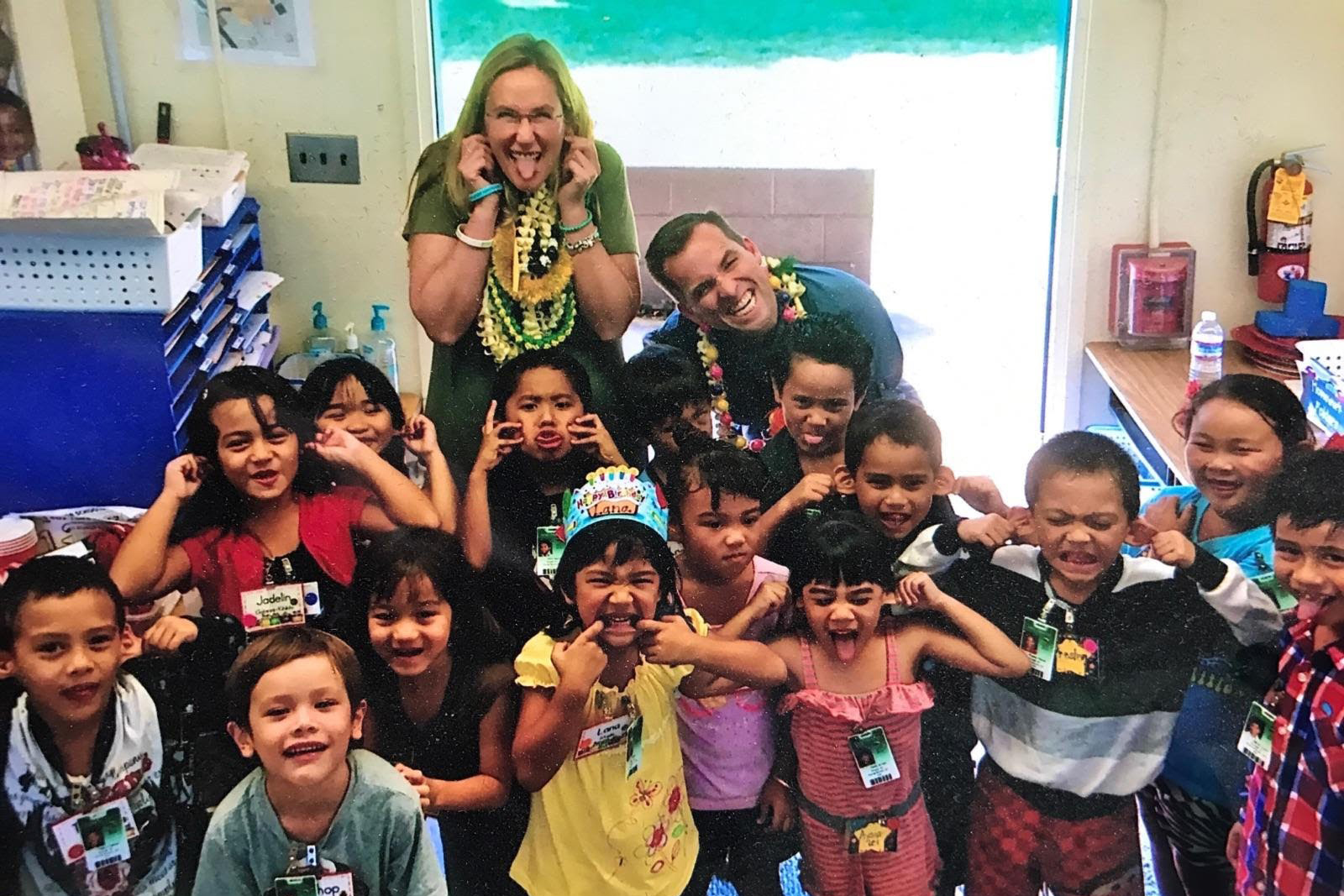 ---
Q: When it comes to your work at Choose Love Movement, when do you get most "pumped up" -- that "glow feeling" when it all comes together?
I am frequently traveling and speaking in front of large groups of educators, students, and parents. I love it the most when a student shares with me how much "Choose Love" has helped them, or when they identify and connect with Jesse's courage and it facilitates courage and personal growth in their own lives. I've known kids that have worn the Choose Love Formula bracelet on their wrist for years. When I ask them why, they say it's because they want to remember that they have the courage that Jesse showed. It reminds them to Choose Love!
---
Q: What have you learned about character development
that you didn't know before?
Character can be inherited and acquired. The majority of our character, however, is environmental and learned. This is incredibly exciting to me because this means we can teach these essential life skills and traits, at any age, that enable us to have meaning and purpose in our lives.
I created the Choose Love Movement specifically to make sure
that everyone has access to these incredibly valuable
skills, tools, and awareness!
---
Q: What new initiatives are you and your team developing?
Our exponential growth over the past few years saw the need to digitize our materials so we are embarking on a total website design and creating an educational software platform so educators can log into a portal, teach lessons on the computer, project content/videos on a screen or whiteboard, and interact with other educators through a hub to share ideas/questions. We will soon be releasing a revised curriculum, Choose Love 2.0, that is aligned with Character.org standards, addressing the latest issues children and educators face with distance learning and heightened stress and anxiety. With these new changes, educators can be a part of an online community to actively be part of the  Movement. This upgrade will present a new, convenient way for educators to access our next generation SEL program.  
---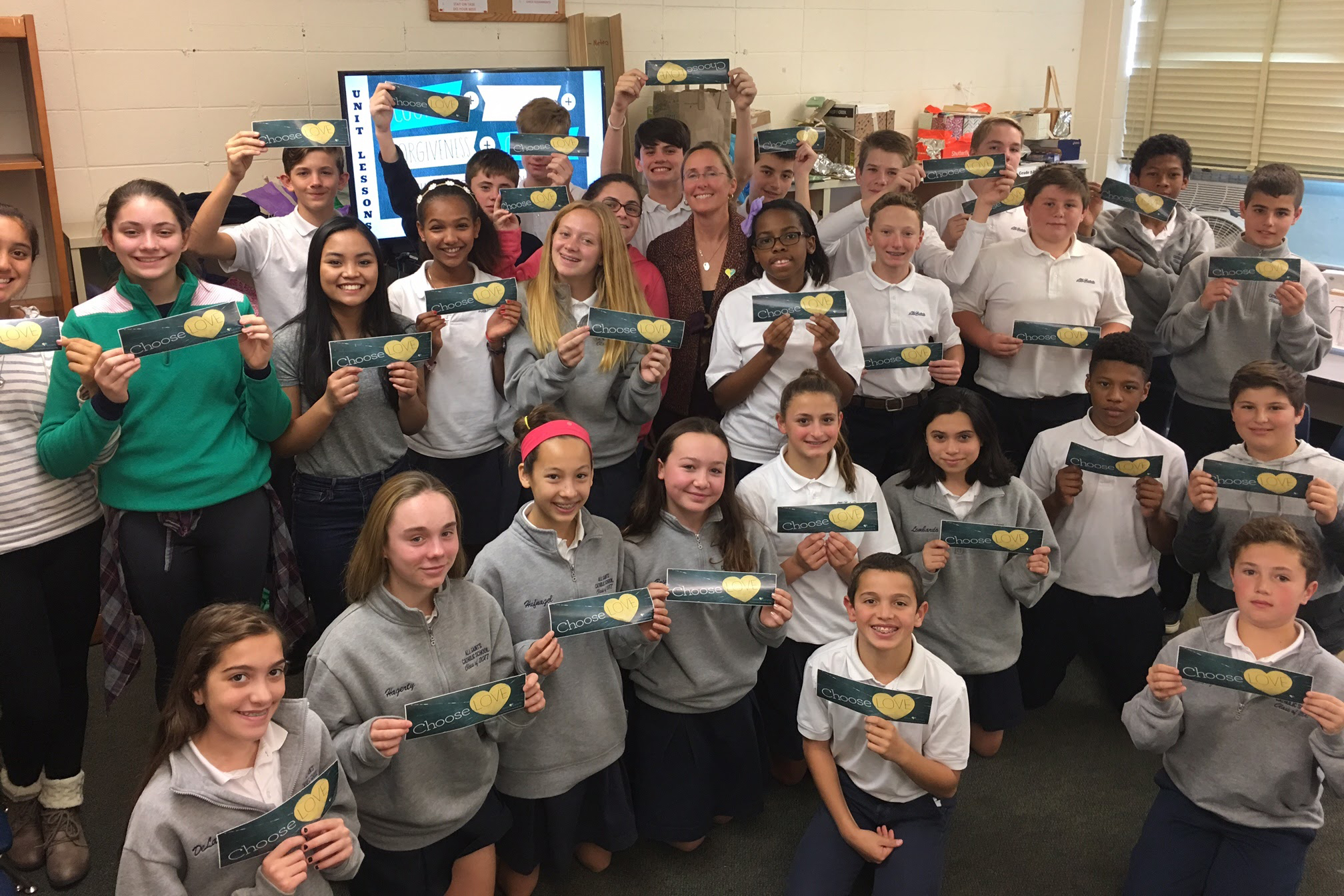 ---
By popular demand, we are also launching a workplace program! Choose Love for the Workplace (CLW) is an enrichment program that helps forge superior teams. We teach the simple formula and provide follow-on exercises to reinforce positive behaviors. 
Choose Love recently partnered with the New England division of Playworks, a non-profit organization that helps kids be active and build valuable life skills through play. 
On June 28th we will be presenting "Celebrate! Choose Love," a fundraiser in honor of Jesse's birthday. It will be a virtual day of inspiration and fun, including musical performances, a silent auction, enlightening interviews, helpful advice, and more. The Choose Love team will be collaborating with our ambassadors, partners, educators, parents, students, and special guests.
---
One last question:
Courage + Gratitude + Forgiveness + Compassion in Action = Choosing Love. Which of those four is your "signature strength" and which one do you need to be most intentional about because it's not a signature strength of yours?
I have learned the key is to be present, in the moment, and as intentional about all of these character values as possible.
This means practicing every day, all day long. The one that benefits is me, and everyone around me! I remember Jesse's courage and it gives me strength to practice everyday courage like being kind when someone isn't being kind to me; being my authentic self; speaking my truth; facing my fear. Practicing gratitude helps me to shift my mind from negative thoughts. We can only focus on one thought at a time so I constantly tick off gratitudes all day long. There is so much to be grateful for! Forgiveness is a choice, and then it becomes a process. I am still in that process especially on Mother's Day or Jesse's birthday. Compassion-in-action is when we step outside of the business and even the pain of our own lives and do for others.
This leads to happiness and even joy in our own lives.

The most important factor in all of this? It's a choice!
---

Past Featured Organizations